The Fight Against Terror
Chinese authorities vow to crack down on terrorism in cooperation with international communities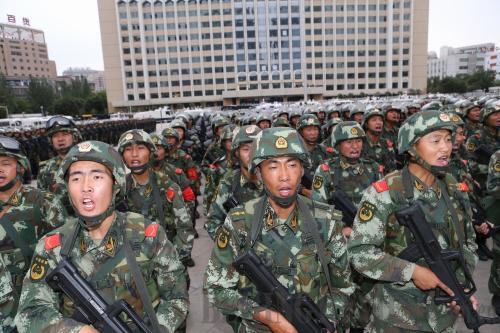 FIRM RESOLUTION: Armed police officers attend an anti-terror rally in Urumqi, capital of Xinjiang Uygur Autonomous Region, on June 29 (CFP)
Local police in northwest China's Xinjiang Uygur Autonomous Region captured the last of the rioters responsible for a series of terrorist attacks in Lukqun Township in Shanshan County, Turpan Prefecture, on June 26.
Authorities announced the capture of Yiblayan Eli on June 30.
The 17-member gang was led by a man named Ahmatniyaz Sidiq, who had been organizing religious extremist activities since February and listening to audio material that incited violent terrorist activities. Since mid-June, the group had raised funds, purchased knives and gasoline and researched sites to prepare for the attack, the police statement said.
Fearing their plot might be revealed after one of the gangsters was arrested on June 25, on the following morning, 16 rioters attacked the township's police stations, a local government building, a construction site, a private store and a hair salon. They also set fire to police cars.
A total of 24 people, including two police officers, were killed by the knife-wielding rioters. Among the victims, 16 were ethnic Uygurs. Twenty-one police officers and civilians were also injured in the attacks.
The police shot and killed 11 rioters and injured another four. Only Yiblayan Eli had escaped capture on the day of the attacks.
"This is another typical terrorist attack in Xinjiang," said Li Wei, Director of the Institute of Security and Arms Control Studies at the China Institutes of Contemporary International Relations. "Such terrorist attacks that happened in Xinjiang are closely related to separatist forces abroad."
The recent attacks show terrorists are becoming more aggressive, as they are targeting police stations and government buildings, said Pan Zhiping, a research fellow at the Xinjiang Academy of Social Sciences.
Pan said that separatist forces use religious extremism to brainwash people into carrying out terrorist attacks.