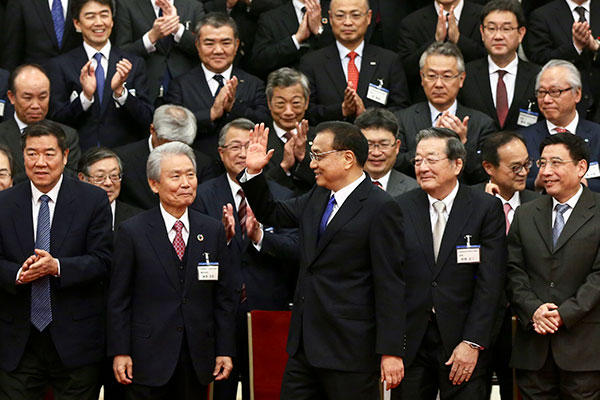 Premier Li Keqiang meets with a delegation of Japanese business leaders on Tuesday at the Great Hall of the People in Beijing. FENG YONGBIN / CHINA DAILY
Premier Li Keqiang urged Japan on Tuesday to get China-Japan relations back on the right track by continuing to improve bilateral ties and avoiding interference.
A healthy and stable relationship is in line with the common interests of both countries, Li said in a meeting with a Japanese business delegation. Mutual trust is the key to improving bilateral ties, and grassroots exchanges are fundamental to the process, he said.
Economic and trade cooperation are vital aspects of China-Japan relations, the premier said, and the Japanese economic community is expected to continue the tradition to help make peace, friendship and cooperation a consensus for all Japanese people.
Li said he hopes the two countries can work together to promote ties, based on the four political documents. These were signed between 1972 and 2008 and were confirmed as abiding principles by both countries in 2014.
This year marks the 45th anniversary of the normalization of diplomatic ties between the two countries and the 40th anniversary of the signing of the Treaty of Peace and Friendship between China and Japan is next year.
Li met with Japanese Prime Minister Shinzo Abe in Manila last week at the East Asia Summit.
Japan had a 110 billion yuan ($16.9 billion) trade surplus with China last year, according to the General Administration of Customs. The administration also said trade volume hit 1.82 trillion yuan last year, a year-on-year increase of 5 percent.
The Chinese economy will continue its stabilizing and positive trends, and further opening-up and reform will be carried out to provide domestic and foreign enterprises with a business environment of equal treatment and fair competition, Li said.
The premier said it is hoped both sides can really take each other's development as an opportunity and help build the East Asian community while promoting their own growth via cooperation in innovation and healthy competition.
By doing so, mutual benefit and win-win outcomes can be achieved and can contribute to regional and global stability and prosperity, he said.
The delegation has a record number of more than 250 businesspeople and entrepreneurs from the island neighbor, who left Tokyo for Beijing on Monday to start their annual visit to China.
Among the delegates were business heavyweights such as Shoji Muneoka, president of the Japan-China Association on Economy and Trade.
Delegates agreed that the improving ties between the two nations are welcome in Japan's economic circles. They vowed to continue the commitment to boost the constant development of bilateral relations by furthering economic cooperation and grassroots exchanges. They also said economic cooperation between China and Japan is expected to bring new opportunities to both nations and also other Asian countries.